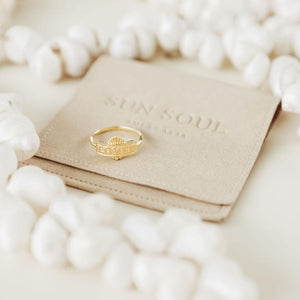 For ever and ever...
This adorable ring is for all the OG lovers out there. Whether you're a true romantic, a dedicated BFF, a loved up baby Mama, a self love goddess, ocean adorer, or just 'a lover not a fighter'...this ring has your name on it. 
Size 7 - approx 17.3mm (inside diameter) 55mm (inside circumference)
Size 8 - approx 18.1mm (inside diameter) 57mm (inside circumference)
Crafted from .925 Sterling Silver with a 14k Gold plating, your Sun Soul jewellery is considered shower safe, but should be dried after each moisture exposure.
This excludes limited edition items that contain 'mother of pearl' or crystal embellishments. Moisture should be avoided with these items as it may affect the integrity of the precious stone/embellishment.
Oxidization may occur if jewellery is worn repeatedly or exposed to water/moisture, perfumes or chemicals. Oxidization from everyday wear is out of the manufacturers control.
Precious metals may tarnish and wear with age. Wipe gently with a soft cloth and store in a jewellery pouch when not in use.
Gold plating may fade over time as it is a coating over Sterling Silver. To preserve, please follow all instructions and treat your Sun Soul jewellery with care.