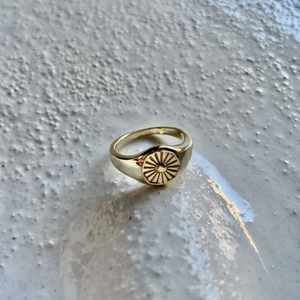 The signet ring for everyday Sun Souls.
The word solstice is derived from the Latin sol ("sun") and sistere ("to stand still"), because at the solstices, the Sun's declination appears to "stand still.
Bask in the beauty of this golden signet ring.
Size 7 available only at this time. Size 6 and 8 due for launch, April 2021.
Size 7 - approx 17.3mm
~
Crafted from .925 Sterling Silver with a 14k Gold plating.
Please ensure that you read the care instructions before purchasing.